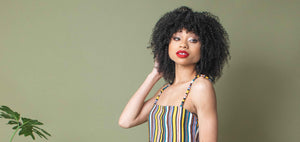 All the natural hair care tips and tutorials you need – all in one place.
Pre-Install Hair Care
1. Hydrate: Fill a basin or sink with enough warm water to completely submerge your Heritage1933 hair. Add a generous amount of conditioner to the water. Dissolve the conditioner by swishing the water with your hands. Do not remove weft ties. Place the wefts, closure or frontal inside the basin. Leave hair in water for at least one hour.

2. Shampoo: Remove the hair from the hydration bath. Gently rinse with warm water. Apply your desired shampoo to the hair, while holding the weft or closure base, gently shampoo in a downward fashion. Rinse thoroughly.

3. Condition: Apply a generous amount of Such A Show-Off Co-Wash to the hair. Gently comb hair with a wide tooth comb or a detangler brush to ensure even coverage. Place hair in a plastic bag for 5 minutes. Remove hair from bag and rinse. Apply a recommended leave-in conditioner and gently comb hair with a wide tooth comb or detangler.

4. Dry: Lay hair flat on a towel or hang to air dry.
Pre-Install Care In Action
Hydrate, Shampoo, Condition, Dry
Wefted Hair Care
Weft or closure sealing: Should be done after the hair has been allowed to completely dry.

Weft reinforcement is the application of a sealant to the weft to prevent shedding, thereby extending the life of the weft. Sealants can be purchased from your local craft store, for they are usually used to prevent fraying of fabrics. We recommend Prym Dritz Fray.This particular product is white when wet but dries clear. Shampoo, condition, and dry hair prior to sealing. Apply a thin layer of sealant to both sides on the weft. Allow one side to dry before beginning the opposite side. The sealant must not come into contact with water for 5 days. Once the sealant has dried, the hair can be installed; you do not have to wait 5 days to install the hair

Please note: This is not a requirement, for our wefts are reinforced. Per your discretion!
Hair Care & Styling Tutorials