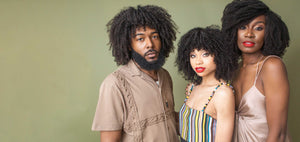 Sign up for Tribe Rewards and get rewarded for being a loyal Heritage1933 customer: plus, it's free!
Sign up for rewards: 100 points
Place an order: 10 points for every $1 spent
Follow us on Instagram: 100 points
Like us on Facebook: 50 points
Share us on Facebook: 50 points
1000 points - $10 off
2000 points - $20 off
3000 points - $30 off
01
Join Rewards
Want to be apart of the Tribe Rewards program? Simply click the "Rewards" star icon on the bottom of the screen.
02
Access Rewards
Do you already have an account with Heritage1933? Great! Sign in to view your current points and start earning while you shop. Are you new to the Heritage1933 Tribe? Don't worry. Sign up for an account to get started.
03
Earn Rewards
Ways to earn made simple! Click the icons and follow instructions to earn points before even making a purchase! If you have any questions regarding our Tribe Rewards program please reach out to support@heritage1933.com.
Rewards 101 With Our Founder